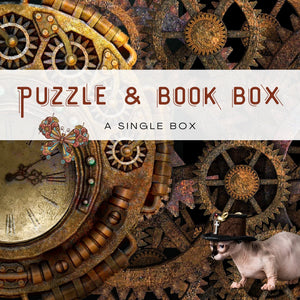 Perfect for anyone who loves puzzles

Why not treat yourself or someone else?
Your Anytime Puzzlelovers' box will ship within the week!

The biggest challenge you'll have is figuring out what to try first.
Each item in the Anytime Puzzlelovers' box comes beautifully wrapped and is delightfully stocked with a book & a puzzle, alongside gorgeous goodies, including tea & treats. You will also receive a custom bookmark and sticker. Everything you need to make the most of your downtime!
What's in the box?
Your literary, vintage, or simply beautiful adult puzzle is paired with a great thriller or mystery read, fine, organic tea (premium, loose), chocolate of some kind & treats.  Pick something new (never issued) or one of our previous month's boxes and your Anytime Puzzlelovers' box will be delivered to your door without any hassle.
The Puzzle
A carefully-chosen adult puzzle - you could receive a literary, vintage or simply beautiful puzzle - that will inspire the book we curate. Minimum 1000 piece.
The Book
A hand-picked read inspired by the puzzle and is sure to please any mystery and thriller lover - you could receive any thriller or mystery sub-genres from crime, fantasy,  espionage, political, legal, eco-terror, horror, disaster, treasure, sci-fi, or even romance.
As a former bookseller, our curator has a great track record for picking the perfect book!
The Teas
Genuinely organic and sure to taste beautiful to any premium organic, loose tea lover.  Carefully selected, each box contains enough tea for two months.
The Treats
Organic? Fair trade? GMO or gluten-free?  At times they will be because we focus on Natural Foods and make sure your treats are always unique and delicious and sure to indulge your snacking desires.
Our multi-box subscriptions are discounted to show our loyal supporters our appreciation!
Order now, sit back and get ready to relax!
Boxes ship via Canada Post and we share shipping costs with you!  We've set a flat rate per box for Expedited & Insured shipping by Canada Post to Canadian provinces by region.
More Questions? Check out the FAQs.
Want the latest and greatest? Check out our regular Time for Piece

Don't want a puzzle? Want to pick your genres?  We've got you covered. Check out our subscriptions here!